On Saturday 25th March mcCr celebrated it's 20th Anniversary with a black tie dinner at the Alpine Hotel, Cooma.
All present and past members were invited to the night and it was great to see some of our original members turn up and enjoy catching up with old friends.
Sandy Schofield welcomed all those present and gave an overview of our achievements over the past 20 years. Sandy also made the amazing anniversary cake which was cut by Joey Herbert and Barbara Litchfield, mcCr Patron.
Jill Murdoch told us, through the eyes of a cancer care nurse, how mcCr had helped the community, especially with the establishment of the Financial Assistance Scheme.
The "Hip Replacement" kept things going with their great music and everyone had a great time dancing away the night.
Here's to the next 20 years.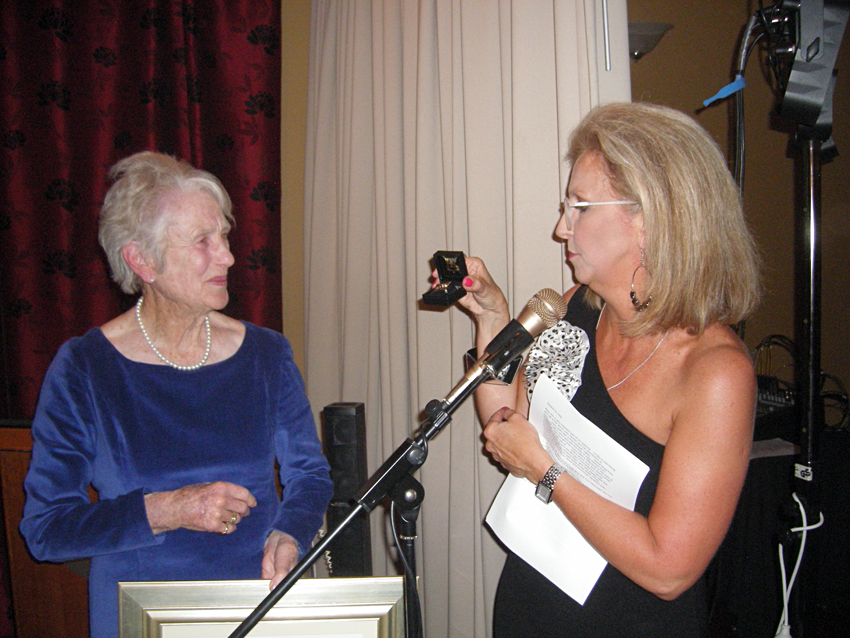 Joey Herbert being presented her Life Member brooch by mcCr President, Sandy Schofield.
Joey Herbert Awarded Life Membership
mcCr's first president, Joey Herbert, was awarded with the first Life Membership of our committee for her dedication and hard work over 20 years.
Joey was very surprised and thanked the committee for awarding her this honour.
Sandy presented her with a beautiful Life Member brooch which was made and generously donated by Harry Rose Jewellery. Joey also received a framed Life Member Certificate and flowers.
Photos courtesy Monaro Post